Chapter 3 Has Begun!
March 23rd, 2012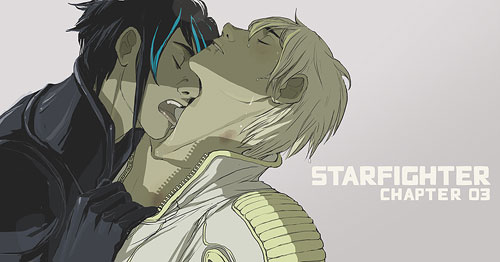 The first page of Chapter 3 is up on the site!

SOME IMPORTANT INFO:

For anyone that missed it: Starfighter has been on hiatus so I could get Chapter 2 to the printers. Instead of the six extra pages I planned.. I went a little overboard with the smut like usual and made twelve. So, IN SHORT: the bad news was: twice as many pages took longer to get done. The good news is: the wait is over and now the print version is finished and filled with sweet extras. It's 69 pages of comic +12 pages of smut, and will also be sold for the same Chapter 1 price of $14.

I WILL ANNOUNCE WHEN IT'S ON SALE! :D

TO THE YAOI-CON PRE-ORDERS: Thank you so, so much for your patience! As soon as we get the books in, they will be shipped out to you ASAP. (You will also be getting the online pre-order goodie with your comic!)

And Yes, Chapter 3 is starting, you can look forward to regular updates!

My big, BIG thanks to Thisbe and Onorobo, who I couldn't have done this without! Thank you both so much, I love you!

Thank you all so much for your patience! You have been so sweet and encouraging and I truly appreciate it! Thank you so much for sticking with this project.. I hope you continue to enjoy the comic!


-Hamlet &nbsp&nbsp&nbsp&nbsp