Starfighter Music Contest!
April 17th, 2013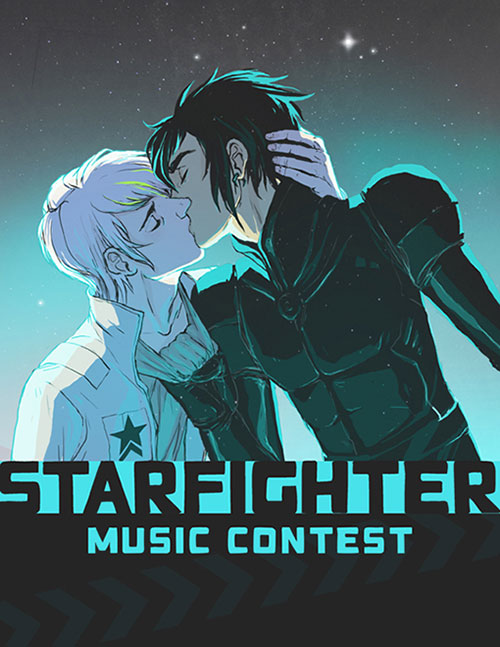 Hello everyone! Have you ever thought, I wonder what a Starfighter soundtrack would sound like? Wouldn't it be cool to read the comic while listening to a Starfighter album?! I AM EXCITING MYSELF JUST TYPING THIS!

Here's the proposal:

Starfighter's first album! It will be hosted on bandcamp.com and available for download FOR FREE to all fans of the comic! (For now, I am planning on a ten track release based on submissions!)

Submissions:

- All tracks must be original content belonging to you, amazing musicians! (You must be the sole copyright holder of this content!)

- Submissions must be presented as:

lossless WAV, AIFF and FLAC files
16 and 24-bit samples
44.1, 48, 88.2, 96, 176.4 and 192kHz sample rates
stereo and mono
(as per bandcamp standards! Please check their FAQ for more details!)

- Sent to: starfightercomicmusic@gmail.com (PLEASE: include your information, such as website/tumblr and the name you'd like to be credited as!)

- Sent by the deadline, which as of now is MAY 20TH!

What I'm looking for: You can choose to do whatever you feel inspired by! However, if you're looking for a starting point, I think these would be really great tracks for the album:

Starfighter theme/ADVENTURE IN SPACE or SPACE IS COLD AND LONELY or PETSHOP BOYS IN SPACE (This is the theme to my retro 80's anime Starfighter shutup)
Navigator theme/MILITARY-SOUNDING/PRESTIGIOUS
Fighter theme/MILITARY-SOUNDING/DARK
Abel's theme/HOPEFUL or SPACE IS COLD AND LONELY or "I DON'T TAKE ORDERS FROM YOU"
Cain's theme/PLOTTING or WELCOME TO THE COLONIES (Or perhaps Cain's theme could have some Russian influence?)
Mother/ETHEREAL-SOUNDING
Colterons/MYSTERIOUS-SOUNDING/SLOW AND LOW/IS THIS ANOTHER BUG HUNT, SIR
Deimos/Praxis/Keeler/Encke themes
Album art:

I am planning on taking submissions for album art as well! I think it would be great to get this started after I have a few music submissions or after the music contest deadline! I don't have a date for when I'll be accepting album art just yet but I will be sure to announce when I do!

I'll be tracking #starfighter music contest and tagging related asks as such!

(I'm sure I'll be adding a lot of edits to this post as questions come in, so please bear with me as I get details sorted!)

A HUGE thanks to scarvenrot for helping me put this together! She has been so incredible and supportive and is holding her own fantastic music contest for Guidestuck! THANK YOU SO MUCH!

Also, to those thinking of submitting, THANK YOU! I think this is going to be really wonderful for everyone who reads the comic and I'm so excited about it!

GOOD LUCK!


-Hamlet &nbsp&nbsp&nbsp&nbsp