I WILL MEET YOU AT YAOI-CON!
September 24th, 2011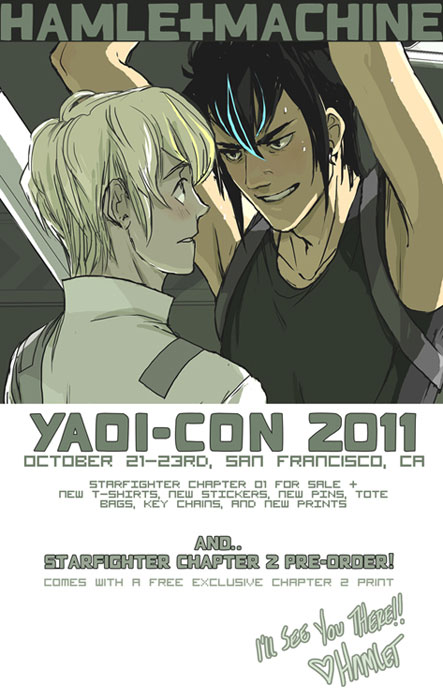 Yes! It's time for my NYC to SF pilgrimage for Yaoi-con! The con will take place October 21st through 23, 2011 at The San Francisco Airport Marriott hotel in Burlingame, California.

I will be in the Dealer's Room this year!

I will have a bunch of new stuff with me: new t-shirts, new prints, new buttons, KEYCHAINS, and..


/ / / CHAPTER: 02 PRE-ORDER! / / /


WHICH I AM EXCITED FOR! This is a special promotion for Yaoi-con-- Chapter 02 will eventually be available online for pre-order, so don't worry if you can't make it to the con! The chapter is very close to being finished but there are still some smutty extras to draw for the printed version-- so please hold on a little longer, I promise it will be worth it!

I'll also be raffling off an original piece of traditional art, so watch out for that as well!

Ah, I am really looking forward to meeting sweet readers and hanging out with west coast friends! If you are at the con, please stop by, I would love to give you thanks and kiss your sweet fingertips!

As always, thank you so, so much for you love and support! I hope to do you all proud!


-Hamlet &nbsp&nbsp&nbsp&nbsp